Meet Arsenal, the Smart Camera Assistant Review (2018)
For those who have amazing DLSR and Mirrorless Cameras, I think you are going to find our Arsenal Review rather interesting. The company's motto is "The Arsenal, the Smart Camera Assistant"
In this review, I'll take a look at the Arsenal and what it POTENTIALLY has to offer a photographer. I will showcase what you can expect to get, what the company claims are it's functionality and throughout I will add my own observations using the unit.
This review is broken down into several sections including
Arsenal Unboxing
Actual Review
Product Specifications
Questions and Answers
Final Thoughts
Updates
so please read on.
Arsenal Unboxing
The Arsenal Package Arrives!
While many Kickstarter folks are waiting for their Arsenals to be shipped out, we got the scoop on what you can expect once yours arrives.
Please Subscribe To GearMashers Youtube Channel
Arsenal Initial Observation
The initial observation is the power button has been moved to the right of the unit. Previous photos had the power button on the left side of the unit.
The packaging is really well thought out and super appealing.
Note: The Arsenal didn't come with any protective case other than the original packaging. Since the unit is plastic, you may want to considered buying a small pouch to store it in. Also the unit is NOT weather/water proof, so it's advised not to use it in the rain, snow and sleet or in pools or other bodies of water.
Meet Arsenal, the Smart Camera Assistant Review
So what exactly is the Arsenal? It's a device that you place in a camera's hotshoe to help intelligently guide it for perfect shots, or at least better shots than most individuals could take by themselves and from what I have seen, it actually may deliver on that.
Arsenal Got It's Kicks with Kickstarter
Back in 2017 15,766 backers pledged $2,650,310 to help bring Ryan Stout's Arsenal Kickstarter project to life.
Arsenal Key Features
I had a chance to chat with Carly Wilkins from Arsenal to get some of the lowdown on the Arsenal's key features and what the Arsenal could do for you.
There are 6 main areas Arsenal is going to help with your photography needs
Automated Photo Stacking
Automated Focus Stacking
Time Lapses
Professional camera adjustments with Smart Assistant AI
Wireless Control
Photo Sharing
Arsenal uses the Arsenal mobile app to control the Arsenal unit. Connection is made via bluetooth.
Arsenal Automated Advanced Photo Stacking
Arsenal automates advanced photo stacking techniques to help you capture scenes with High Dynamic Range (HDR). In seconds, you can take multiple exposures and merge them into a single RAW or JPG file on your camera—no post-production required.
As someone who used to be a real estate photographer, being able to take HDR images without post processing is amazing. This alone would have saved me a ton of time. For those that haven't heard of High Dynamic Range photography, it's a rather cool concept. Usually you take 3 pictures of the same scene, 1 over exposed, 1 normal exposure and 1 under exposed. When you combine all 3 pictures, shadows and dark areas are lighted and over exposed areas are darkened, giving you a picture that pops.
I found by taking HDR images of houses, they tended to sell better and attract more buyers than your everyday run of the mill images would.
Observations: I am not really sold on the exposure stacking stacking. From my experience you WILL need to use your camera on a tripdod. Taking pictures is slow and sometime you run into interface bugs.
Arsenal Focus Stacking
Another cool feature the Arsenal has is called Focus Stacking. With focus stacking, you can get your entire scene in sharp focus. Arsenal calculates the optimal number of exposures, takes them at different focus positions, and merges them into one crystal clear image.
I am really excited to test this particular aspect out. I have a Sony A7iii and the auto focus is stellar. Combining it with Arsenals ability to focus stack, could be really impressive.
Observations: Like Exposure Stacking from my experience you WILL need to use your camera on a tripdod and taking pictures is slow and sometime you run into interface bugs.
Arsenal Timelapse
One of the key features of the Arsenal is the ability to control timelapse footage and maintain proper camera settings as the lighting changes.
Arsenal Smart Assistant AI
One super cool aspect of the Arsenal unit is it's ability to fine tune camera settings based on thousands of professional photos. Users can choose from various pictures to replicate the settings for shooting. The smart assistant is trained on thousands of photos and it will determine and fine tune the optimal settings for the scene you're shooting.
Observation: While I found the Arsenal to take good pictures, I am not sure it takes them any better than if you did it yourself with some practice.
Arsenal Wireless Control
Arsenal lets you control your camera from up to 100 feet away. Use the smart assistant AI, set the shutter speed, aperture, and ISO, see a live preview, or trigger the shutter from your smartphone.
Observation: When working the wireless control seems to offer some nice benefits, but I did experience some camera to phone dropouts. It just isn't reliable.
Arsenal Photo Sharing
A key feature of the Arsenal app is the ability to review and share images directly to Instagram, Snap, or Facebook right from your phone.
Observation: I had zero issues with the photo sharing aspect and found it really helpful to upload a picture.
Arsenal Mobile Application Overview
Like many things these days, there is an App for that. Arsenal uses a phone application ("Arsenal Remote") to help guide you through all aspects of the Arsenal settings. Arsenal uses an intelligent algorithm to suggest settings based on your subject and environment. Then like any good assistant, it lets you control the final shot.
Here's how it works:
Compares current scene with thousands of past images using a convolutional deep neural network. (The same algorithm used in self driving cars)
Optimizes settings based on 18 different factors
Avoids settings that produce weak images on your specific camera and lens
Uses image recognition to identify subject-specific needs (e.g. fast shutter for birds)
Shows safe ranges for each setting based on situational constraints (e.g. vibration)
Gives you the ability to change the settings you care about most
Getting Started With Arsenal
Setting up the Arsenal requires the Arsenal app called "Arsenal Remote" and a compatible camera.
The Arsenal comes with a USB Controller cable, a USB Charging cable and the Arsenal unit. Prior to use, you are required to charge the unit. Once charged, the Arsenal can be placed on the camera's hotshoe and the controller cable connected to both the Arsenal and Camera. You will also need the Arsenal Remote application available for either the iPhone or Android. Once downloaded, you will go through a process on connecting your application to the Arsenal and also uploading any firmware. After that you should be good to go.
Observation: I have run through several updates with the Arsenal and isn't a seamless process, but it has gotten better over time as a result of new firmware updates.
Arsenal Technical Specifications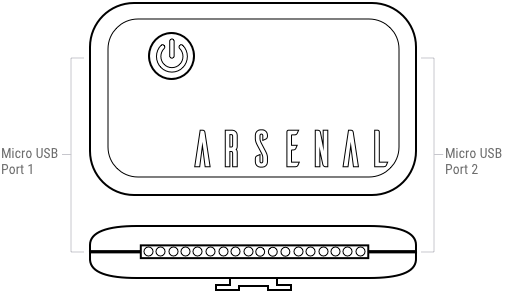 Software
Arsenal uses a mobile phone application to communicate with the hardware and can wireless transfer photos and videos.
Works with any IOS 9.0+ or Android 4.4+ smartphone
Smart assistant AI
Manual Mode to adjust Shutter, Aperture, ISO, etc
Timelapse Mode for advanced control
Software
Arsenal uses a mobile phone application to communicate with the hardware and can wireless transfer photos and videos.
Works with any IOS 9.0+ or Android 4.4+ smartphone
Smart assistant AI
Manual Mode to adjust Shutter, Aperture, ISO, etc
Timelapse Mode for advanced control
Hardware
Arsenal hardware consists of Arsenal unit + micro USB cable.
Connects to camera via Micro USB cable (included)
Powerful ARM processor
Weighs 2 ounces (57 grams)
Bluetooth 4.0 and WiFi-enabled
Up to 100-foot wireless range
Charge while in use (with any USB-compatible battery pack, not included)
Has The Arsenal Shipped?
As of today (June 18th) I haven't heard anyone receiving a unit. The Arsenal was supposed to start shipping on June 4th, but it appears there may have been a holdup with shipping or people receiving their units are being very quiet.
The main topic of discussion on Kickstarter appears to revolve around shipping. I believe people were expecting shipping confirmation. I seemed to remember Arsenal saying that the first units going out would be to the early Kickstarter adopters before the main group.
As soon as I hear anything new I will post.
Do you need a Camera's Hotshoe or Coldshoe to use the Arsenal?
NO. A camera's hotshoe or coldshoe is only used to hold the Arsenal unit on top of the camera and make it more convenient.
What Cameras Are Compatible with Arsenal?
The team at Arsenal have designed the unit to work with many of the most popular DSLR and mirrorless camera models including Sony, Canon and Nikon. Currently Panasonic, Pentax, and Olympus users are left off the list of supported cameras. A full list of supported cameras and models can be found by visiting the Arsenal Website.
What Phones work with the Arsenal app?
Currently both Apple iOS (9.0 or newer) and Android (KitKat 4.4 or newer) smartphones are compatible
What comes with the Arsenal?
The Arsenal currently ships with the following:
1 Arsenal hardware device
1 USB cable for connecting to your supported camera
1 USB charging cable
1 USB wall adapter for charging (USA-style plug)
How long does the battery last?
You can expect 4 to 5 hours of usage out of a single battery charge.
How do you charge the Arsenal?
The Arsenal uses a micro USB port for charging and a second USB port for connecting to the camera. The Arsenal can be charged while in use. Arsenal supports USB IQ for fast 2-amp charging from a USB battery pack or computer (not included) — or from the included USB wall adapter if you have AC power handy.
Can you shoot Handheld?
YES. When shooting handheld, Arsenal disables certain settings that require a tripod. These include:
Exposure stacking
Focus stacking
Long exposure stacking
Mirror lockup
Refocus before shot
Do you need a Tripod?
Certain functionality of the Arsenal will require you to setup a tripod or stable platform. This includes
Exposure stacking
Focus stacking
Long exposure stacking
Mirror lockup
Refocus before shot
Timelapses
Can you shoot video with the Arsenal?
YES. You Enable Live View the the Arsenal Remote app, compose your shot, and set your focus point(s). To start recording video, you will the tap the shutter button. You can stop recording by pressing the shutter button a second time.
What Camera's Work with the Arsenal?
At this time it appears only certain models of Canon and Nikons. As far as I can tell no Sony camera has worked.
Sample Shots
Colin Bryson. Here is Colin using a Canon 6D Mark II and showing some of the functionality.
The shot below is on the Nikon in full automatic and the Arsenal in Smart mode. As you can see the Arsenal did a better job at adjusting the camera than using the camera's auto mode. The Arsenal adjusted the camera's aperture and shutter speed to create a cleaner crisper image.
You can see more images that Colin Bryson took with the Arsenal
Arsenal – Bottom Line
First impressions are always important and my first impression of the Arsenal is it sounds and looks amazing, but after having the unit and running into all sorts of bugs, it's just hasn't lived up to the hype for me. There were way too many bugs that stopped me in my tracks. I am still waiting on bug fixes that allow me to use my A7iii in smart mode.
I know a lot of Kickstarter folks are anxiously awaiting their units and are just waiting shipping confirmation.
Check out the Arsenal (https://witharsenal.com/) and see if it is right for you. The retail price is going to be around $250.
---
UPDATE: 5/6/2019
Sony Camera's still seem to plague the Arsenal and working properly with all the promised functionality.
Here are some of the new updates for Sony
Sony Wifi Camera focus stacking
We had fixed multi-point and whole scene focus for Sony Wifi cameras in 0.9.50, and this new release now includes a relaunch of focus stacking for these cameras.
Software Roadmap
After this release we have a number of other adds/improvements planned for Arsenal and that will remain our focus for the short-term.
Saving stacks to SD card
Our #1 priority is finishing or making a call on saving stacked images back to the SD card. Users can currently share a JPEG image from their mobile app, but the final stacked image is not available on the SD card. We continue to run into some challenges with a number of cameras here and we are identifying ways to work around limitations in camera APIs.
Sony Setup Wizard
We know that setting up Arsenal with some of the Sony models, particularly over Wifi, can be a bit challenging at times. We're looking to make this easier via a setup wizard that better detects where you are in the process and advises you on next steps as you go through the process.
Automatically Save to Phone
Based on feedback from users, in the next release, we'll have the ability to automatically save your images directly to your phone for later use (you can do this today through the OS's native share dialogue, but it does not happen automatically). A small quality of life improvement, but one we've seen requested a bunch.
UPDATE: June 24, 2019
Still, no focus stacking for Sony's. Below is the response from the company, so it appears they are working on it.
"Focus stacking for Sony is in BETA testing now. Users are reporting it working well. It will be in the next release. If you'd like to be part of the BETA, feel free to write beta@witharsenal.com."
BTW – Last software release was in May. Maybe they will have a software release in July.
UPDATE: 10/8/2018
Testing out the Arsenal with the latest firmware. The results are really bad. It just isn't ready for prime time, even with the latest firmware using a Sony A7iii. I simply can not rely on the Arsenal to perform in the field.
UPDATE: 9/9/2018
The latest firmware update seems to have fixed some of the issues with shooting exposure stacks, but I still ran into bugs. Right now I just find that the Arsenal isn't a reliable tool that I could take out in the field and not worry about some issue cropping up. I definitely wouldn't use it on a real estate shooting project like I had hoped.
UPDATE: 8/26/2018
Still no love. A firmware update was supposed to be pushed out last week, but so far it hasn't hit the app store.
UPDATE: 8/19/2018
I am still waiting on a slew of fixes for the Sony A7iii that have yet to fix the Arsenal issues.
Manual mode: Works, but that really defeats the overall purpose of the Arsenal. What people, at least from what I hear want, is automatic camera adjustment.
Timelapse: Works, but nothing of note.
Video: Holding off on trying it.
Exposure stacking: doesn't work.
Focus stacking: doesn't work.
As you can see it's been well over 2 months without the ability to truly test out the Arsenal. For some the frustration waiting to get the unit only to discover it doesn't work as anticipated has been too much and have requested a refund.
UPDATE: 8/06/2018
I am still not able to test the Arsenal in Smart Mode with the Sony A7iii. I spoke with the company last week and they were looking into the issue, but so far nothing has been pushed that allows me to continue testing.
UPDATE: 7/31/2018
An update was pushed yesterday and unfortunately it doesn't appear to work for me. I have heard other people having success with their Sonys. The Arsenal now does detect Sony cameras, but for me if I try and take a picture, nothing happens.
UPDATE: 7/22/2018
I have been waiting to test the Arsenal with my A7iii and haven't been able to test it yet due to Arsenal software issues.
I was able to borrow a Nikon camera from Precision Camera and test the Arsenal, but most of the cool Arsenal functionality that was supposed to work, didn't at the time, so my testing pretty much ended with not much to show.
I am currently in a holding pattern until the Arsenal team resolves the A7iii issues, which would then allow me to continue testing.
The Arsenal team has been working on bug fixes and new updates are being pushed on a weekly basis. For those that backed the Kickstarter, shipments of the Arsenal units have been slowed down so that the company can get a handle on the various bugs people are finding.

FOUND THIS REVIEW USEFUL? Please support GearMashers.com
If you found this review USEFUL, please help support the website by purchasing something from our Amazon Affiliate links below. Even if you don't see something you want, just click on one of the links and buy something else. We will get credit for whatever you purchase for the next 24 hours. It doesn't cost you anything extra, but it helps our website buy more gear to review.