Meet Arsenal, the Smart Camera Assistant Review (2018)
For those who have amazing DLSR and Mirrorless Cameras, I think you are going to find the Arsenal rather interesting.  The company's motto is "The Arsenal, the Smart Camera Assistant"
So what exactly is the Arsenal?  It's a device that you place in a camera's hotshoe to help intelligently guide it for perfect shots, or at least better shots than most individuals could take by themselves and from what I have seen, it actually may deliver on that.
Arsenal Got It's Kicks with Kickstarter
Back in 2017 15,766 backers pledged $2,650,310 to help bring Ryan Stout's Arsenal Kickstarter project to life.
Arsenal Automated Advanced Photo Stacking
Arsenal automates advanced photo stacking techniques to help you capture scenes with High Dynamic Range (HDR). In seconds, you can take multiple exposures and merge them into a single RAW or JPG file on your camera—no post-production required.  As someone who used to be a real estate photographer, being able to take HDR images without post processing is amazing.  This only would have saved a ton of time for me.  For those that haven't heard of High Dynamic Range photography, it's a rather cool concept.  Usually you take 3 pictures of the same scene, 1 over exposed, 1 normal exposure and 1 under exposed.  When you combine all 3 pictures, shadows and dark areas are lighted and over exposed areas are darkened, giving you a picture that pops.
Arsenal Focus Stacking
Another cool feature the Arsenal has is called Focus Stacking.  With focus stacking, you can get your entire scene in sharp focus. Arsenal calculates the optimal number of exposures, takes them at different focus positions, and merges them into one crystal clear image.
Arsenal Timelapse
One of the key features of the Arsenal is the ability to control timelapse footage and maintain proper camera settings as the lighting changes.
Arsenal App
Like many things these days there is an App for that.  Arsenal uses an phone application to help guide you through all aspects of the Arsenal settings.  Arsenal uses an intelligent algorithm to suggest settings based on your subject and environment. Then like any good assistant, it lets you control the final shot. Here's how it works:
Compares current scene with thousands of past images using a convolutional deep neural network. (The same algorithm used in self driving cars)
Optimizes settings based on 18 different factors
Avoids settings that produce weak images on your specific camera and lens
Uses image recognition to identify subject-specific needs (e.g. fast shutter for birds)
Shows safe ranges for each setting based on situational constraints (e.g. vibration)
Gives you the ability to change the settings you care about most
Arsenal Technical Specifications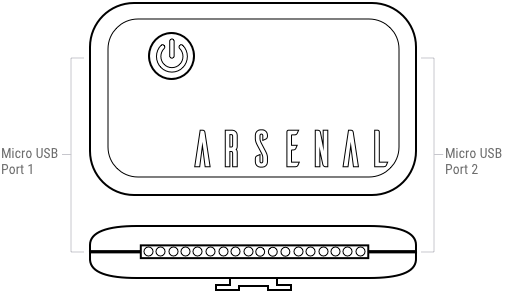 Software
Connects to most Canon, Fuji, Nikon and Sony DSLR and mirrorless cameras. See full list here.
Works with any IOS 9.0+ or Android 4.4+ smartphone
Smart assistant AI
Manual Mode to adjust Shutter, Aperture, ISO, etc
Timelapse Mode for advanced control
Hardware
Connects to camera via Micro USB cable (included)
Powerful ARM processor
Weighs 2 ounces (57 grams)
Bluetooth 4.0 and WiFi-enabled
Up to 100-foot wireless range
Charge while in use (with any USB-compatible battery pack, not included)
Arsenal – Bottom Line
First impressions are always important and my first impression of the Arsenal is it sounds and looks amazing.  Whether it lives up to the hype at this point anyone's guess, but from the footage I have seen thus far, it looks like a winner.
Check out the Arsenal (https://witharsenal.com/) and see if it is right for you.  The retail price is going to be around $250.